About Central Market
Central Market is a fresh food market in Central, Hong Kong. It is the first wet market in Hong Kong, and is bordered by Jubilee Street, Queen's Road, Queen Victoria Street and Des Voeux Road.

The Central Market has relocated a few times since it was established in 1843. At that time, it was known as the Canton Bazaar or Middle Bazaar, and was sited between Cochrane Street and Graham Street. After a series of fire that broke out, the bazaar was forced to relocate to Tai Ping Shan. From there, it moved to Queensway, at the site of the present High Court. It relocated to its present site on Des Voeux Road in the 1850s. The early 1858 structure on Des Voeux Road was replaced with a Western marble building in 1895. That building was demolished in 1937 and replaced with a Bauhaus structure completed in 1938. In 1994 the western part was turned into the Central Escalator Link Alley Shopping Arcade linking the Central Elevated Walkway and the Central-Mid-Levels escalator. The Central Market closed in March 2003 and is today largely abandoned except for a few stalls facing the pedestrian corridor.
How to reach the Central Market
Take the Island Line or Tsuen Wan Line of the MTR to the Central subway station. Walk west along Des Voeux Road Central until you reach the Central Market on your left.
Photo of the Central Market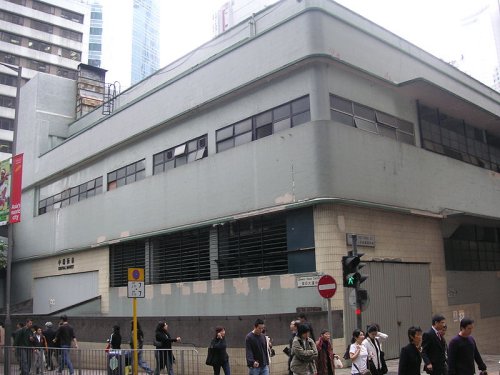 Hong Kong
Author: HenryLi (Creative Commons Attribution ShareAlike 2.5 Generic)